---
TRAINING THE FRONTLINERS
Lubes Training Program Consultant Mon Manotok applied for a gasoline station in Congressional Avenue to pursue the love of his life: working with cars. Since then, he has made a mark with the Lubes Business Unit, particularly through the Caltex Lubes' training programs. He had just finished training attendants in Iloilo when we asked him to give us some time to share his insights on the ongoing lubes training that he and his team have held around the country.
1. How did this Lubes Training Program for Retailers and their staff start?
When Cocoy Chio took over as Retail Coordinator he sought to address a number of problems faced by retailers in lubes marketing and service bay operations. Lack of training was one of them, a conclusion derived from the results of a survey that showed forecourt personnel were not acquainted with Caltex lubricants.
2. What areas are covered in the training program?
Product knowledge is first. We show the trainees the various types of Caltex lubricants and explain each product's specific applications. This boosts their confidence and helps them sell the product to the customer.

We also train them in the proper use and maintenance of lube bay equipment. A competent technician using clean, well-cared-for equipment builds customer confidence.
We also instill a professional outlook among the attendants by encouraging them to wear uniforms and keep their work bays clean.
3. It will help retailers to know where we are weak on. What weaknesses have you observed?
Some retailers are not familiar with the vast range of lubricants Caltex manufactures and what products they can stock in their stations. Some have delivery problems. Others do not use their lube bays or have the proper tools, proper uniforms, safety shoes.
Many retailers, especially those in the city, do not have the time to train the forecourt attendants. Some of the excuses I have heard are: "Sa bilis ng pagpalit sa mga forecourt attendants ay hindi ko na sila natuturuan." or "Naku, aalis din yan sayang lang yung tinuro ko dyan." or "Wala akong oras at hindi ko rin naman alam yung mga produkto, e."
4. Any particular group that stood out for either giving you a hard time or for making training pleasant?
Well, I'm particularly very impressed with the retailers of Iloilo. It's one big happy family. They share information; find time to help one another; have pride in their job, as well as in their business; they believe that reputation and character is important. To cite you an example, we never needed to remind the Iloilo retailers of their training schedule. Our sessions always started on time with a big turn-out. Once, the participants of Mrs. Jalandoni were 10 or so minutes late for the session. She was mortified. The following day, she made it a point to meet them in a particular place and drive them to the session herself. They were in the training venue before 7:30 A.M.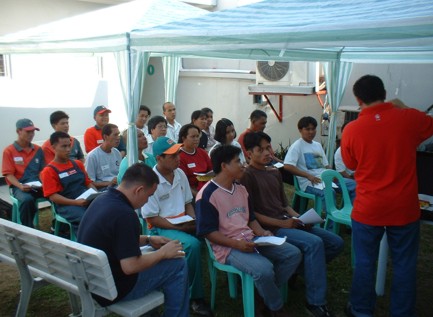 5. Any reaction from the retailers or their staff after the training?
There is an evaluation sheet that goes to the Lubricants group. I'm happy to say that the few negative comments we get are more about the venue, e.g. masyadong mainit, maingay, malayo, than about the content.
One retailer in Metro Manila learned about the low-priced lubricants, like Valor and 2T Scent only through the training and has made it available in her station ever since.
Retailers have suggested that we conduct these seminars regularly, perhaps once or twice a year, to keep forecourt attendants current on Caltex lubes products and best practices, especially in areas where there is a high turn-over of staff.
The forecourt attendants enjoy the training immensely. We give out prizes but they take more pleasure and pride in their scores. Some admit that they were hired 'kasi kulang ng attendant at tinuruan lang sila ma-pump pero wala talaga silang alam sa produkto or under the hood offering or check- up!' But, once they have been through the course, they show confidence and , professional pride.
6. What advice can you give retailers to strengthen their capability to compete in this area?
Caltex's Lubricants Business Unit has a long list of products that match or are superior to competing lubricants. Marketing material and support should be requested from Mr. Jojo Sacdalan. Events can be organized in different areas and this can also be supported by the LBU group. The LBU group also has Direct Marketing Programs that focus on your customers or fleet accounts. If fast moving products are often out of stock in your area you can request that a bigger inventory be carried.
Finally, retailers who want lubes training in their area should approach their Business Managers and request that these be organized. The benefits of training are better sales, better customer satisfaction, and a confident staff. Who would not want that?
§